Know all the top benefits of PDF to DWG Conversion Services in detail here.
PDF To DWG Conversion Services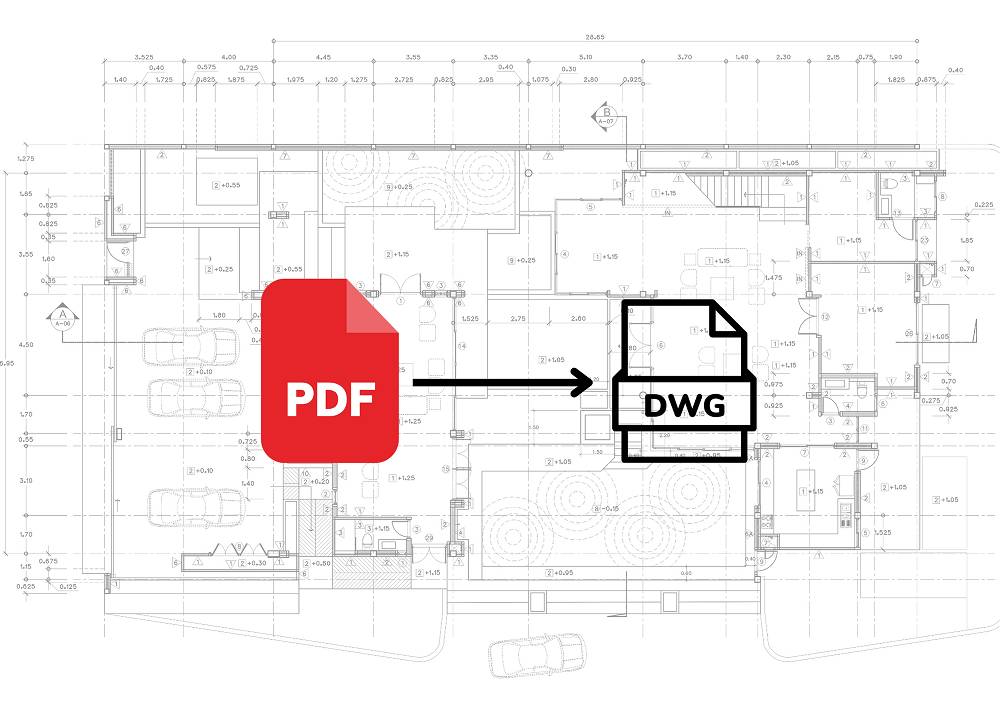 The necessary use of computer software for the design and drawing process over the past few years has led to the AEC Associates PDF to DWG Conversion steadily becoming an essential component of the building industry.
When a future extension, addition, or modification of a structure is involved, you frequently need DWG drawings; if these plans are unavailable, you must use DWG to PDF conversion.
The industry is now almost forced to accept the process as inevitable.
A flexible file format known as PDF may store any combination of raster images, text, and 2D vector drawings.
Data is not altered while being stored or transmitted back by PDF files. Furthermore, these files are unchangeable and cannot be edited. Hence, PDF to DWG or PDF to CAD Conversion comes into the picture.
To begin the design process for any future extensions, additions, or renovations to your building, you will require the original CAD drawings.
You can use AutoCAD PDF to DWG conversion to get these designs from PDF copies you already have if you've lost, misplaced, or simply don't have access to them. You will receive superior-quality drawings for the design process thanks to the high-quality conversion.
Outsourcing is an option that companies go with when converting PDF to DWG. It is a really advantageous choice with several benefits.
Benefits of PDF to DWG conversion
PDF files are simple to view anytime, anywhere. Most web browsers can also be used to view these files.
2 - Retention of text quality
Text of great quality is produced via PDF to DWG or
PDF to CAD Conversion
, because PDF files store words and phrases as strings of characters, with each character including particular positional and stylistic information. This guarantees great precision.
3 - Original colors are retained
Because PDF files are high-fidelity, they guarantee more accuracy because the original colors used in the drawings are preserved and then transmitted back.
4 - Partial conversion is feasible
In architectural DWG conversion, it is quite feasible to convert only a few pages of a document at a time. For this, you can pick and choose particular pages from the PDF file.
5 - Retention of all original lines
Converting a PDF to DWG has the significant benefit of keeping all the original lines and arcs in addition to the true type text. These converted drawings are available for viewing and editing as needed.
6 - Retention of line thickness and location
CAD conversion makes sure that the converted DWG files keep the line thickness, location, and forms. Thus, the drawings' accuracy is maintained.
7 - Convenient usage of comments
You can add annotations to PDF files without changing the underlying data or scheme. As a result, revisions and alterations are made incredibly simple and convenient.
8 - Flexible printing options
PDF files have flexible printing options, and converted files also have access to this feature. Hence, PDF to DWG conversions offer the user a number of options.
9 - Provision of financial and professional security
Since PDF files cannot be changed or tampered with, they protect the financial and professional interests of architects and other professionals in the sector.
The financial and professional interests of architects and other industry professionals are likewise protected by DWG conversion. 
PDF files are like paper prints and cannot be altered. You give clients or other third parties the drawings in PDF format. 
To convert them back into DWG files for a subsequent design process, CAD Conversion can be used.
Outsourcing AutoCAD PDF to DWG Conversion Services assists businesses in reducing costs and maximizing productivity.
When drafting is outsourced, experts can concentrate on design choices and have more time for more important work. The industry is being transformed by digitization, and by making adjustments like these, businesses may boost their productivity and success rates.
The conversion of PDF to DWG has many benefits for business professionals.
Particularly in cases where a remodeling, restoration, or expansion construction is planned for an existing building, the precise, accurate drawings produced by the conversion process serve as a firm foundation for architectural design and drafting professionals.
A strong tool that gives architects a foundation to begin the design process is PDF to DWG conversion.
Are you looking for PDF to DWG Conversion Services in USA for your project? You are at the right place. As Cresire Consulting is one of the best PDF to DWG Conversion Services providers in USA, Canada, UK, Australia, Germany, Sweden, Poland, and across the globe, provides accurate and high-quality CAD Conversion Services to its clients.
Need help with PDF to CAD Conversion Services, PDF to DWG Conversion, Paper to CAD Conversion, Image to CAD Conversion? Feel free to email us and get a FREE quote today at enquiry@cresireconsulting.com
Get in Touch with us for BIM Outsourcing Services
Stay up to date with latest BIM trends, benefits of BIM and thought leadership articles