3d Rendering of Bedrooms in a
Multi-Storey Residential Apartment
Case Study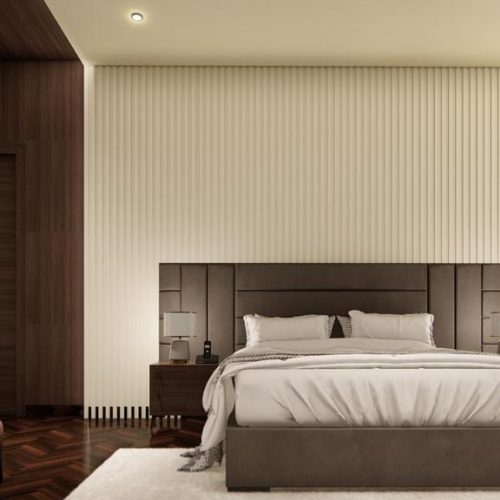 Project Description: Realistic 3D Rendering model of bedrooms for a residential apartment building.
Client Description:  Architectural & Interior designing company, providing solutions primarily on residential and commercial projects.
The client required 3D Rendering models of 2 bedrooms for choosing the materials, furniture and interior design of the rooms
Client requirements: 3D visualisation of multiple rooms of residential apartment for taking better interior design decisions.
The interior options for rooms typically included: flooring pattern, bed back wall elevation, TV wall elevation, false ceiling with veneer side patch, bed style and suspended ceiling light
Inputs from Client to Build 3D Rendering Model
3D rendering model benefits leveraged by the client
Below are the values we added to the project:
Great insight of the overall look and feel of the room
Choosing suitable paint colour after trying multiple shades in the room
Better planning of furniture colour, style and type
Decision making on the bed-back wall elevation & TV wall elevation
Trying different material for window framing, drawer/shutter before taking a decision
Interpreting the look and feel of the lacquered glass and veneer for doors
Deciding flooring material i.e., vitrified tiles, marble or wooden
Deciding between the side lamp and suspended ceiling lights
Bringing certainty to the groove design on the bed-back elevation wall
Deciding the position of the TV set and the location of the balcony door
CRESIRE is continuing to assist this Architectural Rendering Company with 3D rendering services on their new residential projects to satisfy the interior design requirements of their end clients.
Why partner with CRESIRE for 3D Rendering model
At CRESIRE, we follow structure process for 3D rendering model to facilitate visualization required for decision making at the operational performance of a wide variety of built assets from residential to commercial, educational and healthcare developments.
The benefits of adopting 3D rendering model and other BIM services on projects reinforce the decision making and bring certainty in the design process.
As the best 3D Rendering Company in US, CRESIRE assists professionals and businesses from diverse construction industries with 3D Rendering Services such as, 3D exterior rendering services, 3D interior rendering services, and 3D product rendering services.
Many property owners and builders find 3D rendering services in USA and 3D rendering services in UK cost/time consuming on small residential projects. This is due to the high rate for 3D rendering model makers in the USA and the UK.
In terms of production cost, CRESIRE has an edge over other rendering model providers in the USA and the UK.
Our production team operates from India, offering competitive pricing to clients requiring 3D rendering services in US, UK and Europe.
We help clients to save up to 40% production costs as compared with the local rates for 3D rendering services in USA, UK and Europe.