Read Top 3 Benefits of Outsourcing HVAC Drawing Services including duct layout 2D Drawings and Drafting.
HVAC stands for Heating, Ventilation and Air Conditioning. It is a very important part of engineering and architecture which is required for every project. 
HVAC systems are responsible for controlling temperatures and the air flow in all spaces and all buildings are incomplete without it. An HVAC system ensures that the comfort zone is maintained in a space. 
An HVAC Drawing consists of many constituents. AC duct layout, pipelines, central cooling and heating systems are some of its components. An HVAC drawing is generally done in the beginning stages of a project to avoid clashes later on. It needs to be very accurate for proper execution.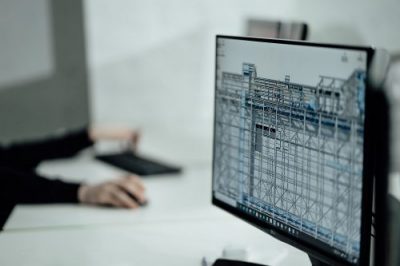 Since the system consists of many components, there are many different types of drawings required to successfully install it. 
HVAC drawing can involve duct size design, pipe layouts and sizing, HVAC Duct Layout Drawing, Load Calculations, HVAC system design, details and schedules for it and so on. 
Central air cooling systems, electrical and heat ventilation systems, cooling coils and boilers also come in an HVAC drawing. It is a complicated system and needs to be handled very precisely.
3 Benefits of Outsourcing HVAC drawing services :
HVAC Drafting Services are generally outsourced by engineering and architecture firms. Since an HVAC drawing is very complicated, it is always better to let skilled experts handle them. It not only saves time but also helps increase profitability of a firm.
The construction industry is very fast-paced. Drawings need to be completed on time to avoid cost increments and work delays. In such environments, construction companies and builders have started relying on agencies providing HVAC drafting services. Outsourcing in the engineering sector has become a common practice now.
Let's take a look at 3 Benefits of Outsourcing HVAC Drafting in AutoCAD:
As mentioned above, an HVAC 2D Drawing needs to be very accurate. For large scale projects, these drawings become even more complicated.
Hence, it is always profitable to let experienced professionals work on HVAC Drafting in AutoCAD. They are well aware of the nitty gritties and have a set workflow that makes it easier for them to complete these drawings within deadlines.
Along with this, the experts are up to date with the international standards. They can deliver drawings that follow design by-laws and codes. Hence, no time is wasted in referring to the codes by the in-house team.
Enlisting the help of a professional will help save time and hence resources of your firm. It will help you focus better on project management and client acquisition. 
Apart from that, skilled experts with their experience and understanding can come up with smarter solutions that can help reduce costs. They are proficient in HVAC Drawing in AutoCAD, which is the go-to for engineering firms. 
Apart from that, Architecture and Engineering firms can save a lot of investments needed for the tools and softwares to create these drawings. These agencies are well-equipped with latest technology and offer their services at comparatively lesser rates.
3 - Tailored Services and Effective Design Solutions
When you partner with a firm for HVAC Drafting Services, you can customize your requirements. The firms generally provide flexible packages wherein you can select the number and type of drawings, the details needed, the pricing and schedules to tailor it to your needs. This makes it a very cost-efficient option as you only need to pay according to your requirements. 
Along with this, the experts help in creating optimized solutions. For example, in an ac duct layout, they will create the drawings such that it is the most optimized model and it helps in cost and energy saving. Therefore, energy saving is an added advantage of outsourcing HVAC Drawing Services.
HVAC drawing can be highly technical and it may be time consuming for the in-house team to learn and make precise drawings. 
Hence, outsourcing technical drawings is always a good idea to save resources. Hence partner up with a reliable agency to get the most accurate results. Make sure they have a strong portfolio and a list of previous clients. Choose a firm that is flexible enough to deliver work according to your deadlines and can keep you on priority.
Cresire Consulting provide HVAC Drawing Services, HVAC 2D Drawings, HVAC Duct Layout Drawing, HVAC Drafting in AutoCAD, HVAC Duct Drawing in AutoCAD services in USA, Canada, UK, Sweden, Australia, UAE, and across the globe. If you need any help for HVAC 2d drawing and drafting, feel free to contact us anytime.
Get in Touch with us for BIM Outsourcing Services
Stay up to date with latest BIM trends, benefits of BIM and thought leadership articles