Read Emerging Trends of BIM Construction Management and how Building Information Modeling implements in Building and Project Management.

Construction Management is quite a complex process requiring strong programme, cost and stakeholders management.
With too many ongoing projects it gets difficult for a project manager to collaborate and manage all of these projects especially with the old ways.
If you are from the construction industry then you must have come across BIM from your colleague, stakeholders or client. In the present day and age, in which digitalization is quite rapid, allowing people around the world to collaborate and work together in every technical industry imaginable.
BIM Construction Management is one of the most advanced methods for not only digitally managing the construction projects but also allowing project managers to control cost and time overruns.
Implementing BIM in Construction Management
1 – Setting project specific goals for BIM Construction Management:
This is a crucial step to identify effectiveness of BIM for certain project management activities. 
It is critical that the project team has a discussion to have a clear understanding of why they want to implement BIM. 
The Common Reasons are Mentioned Below:
Stakeholders Management:  Bringing all the stakeholders in one single collaborative digital environment for taking design decisions 
Cost Management: Extracting accurate BOQs from well fabricated and coordinated 3D Architectural, Structural and MEP models.
Programme Management: Integrating complex project timeline to the 3D Revit Model in Navisworks and track the sequencing of the construction elements for planning the critical activities as per the weather and project conditions.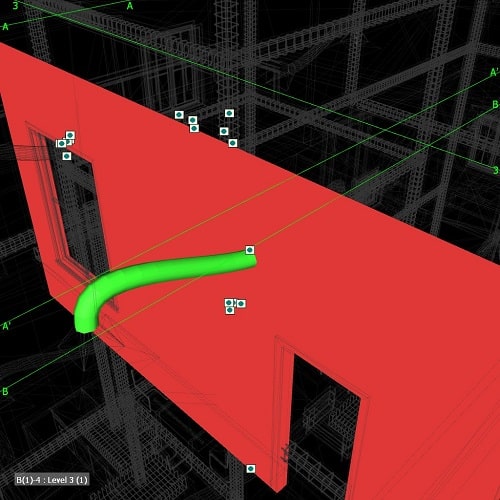 Clash Resolution: Identifying potential design clashes between architectural, structural and MEP components and presenting them in a collaborative digital workspace (BIM 360) between project stakeholders. 
This is a powerful tool for identifying and eliminating the potential design error before the project goes on site. Hence, reducing the time and cost overruns 
Lifecycle Management: Adding lifecycle details such as warranty date, contractor's details, manufacturing date etc. of an MEP or Structural equipment for managing the future maintenance and renovation process easily.
2 – Identifying an experienced BIM construction management professional/consultant at required design stage
Just like it is critical to set your expectations from BIM construction management, it is also imperative to partner with the right BIM consultant at the right design stage. 
It is advisable to hire a BIM Consultant right from the conceptual design stage to maximize the advantages of BIM on a construction project. 
However, depending upon your requirement, you can hire a BIM consultants in any of the design stages an mentioned below: 
Preparation and briefing

Conceptual design

Spatial coordination

Technical design
3 – Purchasing Required Software Licensing  for BIM Construction Management 
Some big organizations have in-house BIM capabilities and have the budget to train and educate employees with the latest BIM techniques. They often have a budget to purchase expensive software licence if they are using BIM frequently on projects.
In many cases, construction companies partner with a BIM Consulting Company. This helps the organization to wave off their extra cost of hiring/training resources and purchasing expensive software licence.
4 – Following Right BIM Standards for Effective Delivery
BIM standards contain procedures, methodologies and naming conventions for effective BIM delivery. Depending on your location you must follow the latest BIM standard practized in your country. 
The most common BIM standards include: 
BIM Construction Management is a powerful tool for controlling the cost and time overruns of a construction project by promoting collaboration between the project stakeholders, identifying & resolving potential clashes, calculating accurate cost estimates of the building and planning critical construction activities as per the timeline. 
With the gaining popularity of the use of BIM on the construction project many AEC are collaborating with BIM Consulting Services companies for effective implementation of building information modeling on construction projects. 
It is critical to set a project specific goal from BIM construction management and purchasing the required software licences before adopting building information modeling on projects. 
Get in Touch with us for BIM Outsourcing Services
Stay up to date with latest BIM trends, benefits of BIM and thought leadership articles