Discover why Revit Modeling Services are essential for Modern Design Development in Architectural and Engineering projects.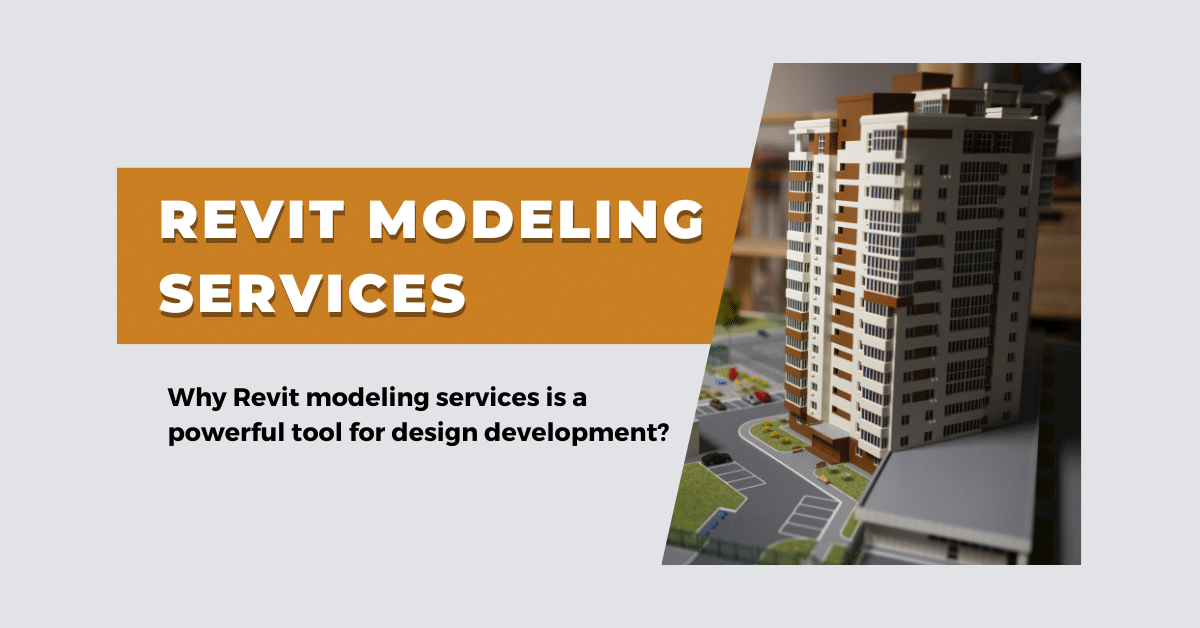 Understanding Revit Modeling Services
AutoDesk Revit is a unique software that offers an interface for creating interactive three-dimensional models. Depending on the project stage, these models are populated with the information as per the architectural and engineering design.
Revit modeling is the process of developing 3d models using the design drawings or point cloud data. Often the complex geometry of architectural, engineering and interior components are modeled as Revit Families that are inserted into a BIM model for maintaining the precision of the design.
These Revit models are used for extracting precise cost estimates that is commonly known as 5d cost estimation and 6d facilities management.
Often AEC companies around the world partner with a BIM consultant for developing BIM models, the process is commonly referred to as Revit modeling services.
BIM Modeling or Revit Modeling Services allow small and medium sized architectural, engineering and construction companies to leverage the expertise of BIM consultants for developing information models for each of the discipline. This allows the appointing party (client) to avoid unnecessary implementation, resource and software costs.
As the name suggests, Revit modeling is a software based approach and requires advanced design and visualization skills for preparing a precise 3d architectural and engineering models.
Therefore, it is imperative for an appointing party to partner with an experienced BIM consultant for Revit or 3D BIM Modeling Services.
There are many applications and benefits of adopting Revit modeling services on design projects. This article discusses the discipline-wise uses, process, best practices and advantages of adopting BIM Modeling or Revit Modeling Services.
Different Domains/Disciplines in Revit Modeling Services
There are typically three discipline in Revit modeling services that include; architectural, structural and MEP.
As an appointing party if you reach out to a BIM consulting company then the first thing they would ask will be the discipline in which you require BIM Modeling or Revit Modeling Services.
Three Main Disciplines for Revit Modeling Services
1 – Revit Architectural Modeling
Revit Architectural modeling is the process of creating digital representations of building structures, systems, and components using AutoDesk Revit software. It involves the creation of 3D models, detailed plans, and sections of buildings to aid in the design, visualization, and construct.
Architectural Revit modeling includes several key elements that are essential to creating accurate and detailed building models. These elements include walls, floors, roofs, doors, windows, stairs, and components such as furniture and fixtures.
Additionally, 3D Modeling includes features such as parametric modeling, which allows for the creation of intelligent 3D objects that can modify to meet specific design requirements. Other elements in Revit modeling include views and sheets, schedules and annotations, and collaboration tools that enable teams to work together on a project in real-time.
There are different views that Revit offers to Architects for BIM Modeling. These views allow the BIM Modelers to maintain the precision and visibility of architectural components in different views.
These Views include:
Plan View
North Elevation View
South Elevation View
East Elevation View
Reflected Ceiling Plan (RCP)
3D View
2 – Revit Structural Modeling
Revit Structural Modeling is the process of developing 3d models using structural layout and detailed engineering designs.
Structural Revit modeling involves creating digital representations of structural elements in a building, such as columns, beams, walls, and foundations, using Autodesk Revit software.
It includes features such as reinforcement detailing, analysis, and design, and enables engineers to create accurate and detailed models that aid in the construction process.
Revit offers predefined structural elements library for columns, beams, reinforcement etc. Unless you do not have a complex or unique design, you can use these structural elements and define required sections and dimensions.
3 – Revit MEP Modeling
Revit MEP Modeling is the process of creating three dimensional models of mechanical, electrical and plumbing systems.
These elements typically include HVAC, electrical panels, lighting, piping, and fire protection systems, using Autodesk Revit software. It includes features such as load analysis, sizing, and coordination, and enables engineers to create accurate and detailed models that aid in the construction process.
Why Use Revit software for BIM Modeling Services?
1 – Detailed Views for Better Visualization
Revit is an advanced software for BIM modeling. It allows users to create Architectural, Structural and MEP BIM Models/Families in different views and visibility settings. These views typically include plan, reflected ceiling plan, north/south/east/west elevation, and 3d view.
If you are inserting a wall element in plan view then you will be able to see that wall in all the views. There is no need to model or insert the wall in different views.
This ease of visibility settings and comprehensive viewport makes it easy for architects & designers to visualize design in a detailed manner.
Architects and BIM modelers can identify and mitigate potential errors by assessing the behavior of the design elements in three-dimensional environments.
2 – Interdisciplinary Coordination using Revit
3D Modeling Services are adopted in Architectural, Structural and MEP disciplines. Depending on the project requirement, the BIM Models are either developed for all the 3 disciplines or just for a particular discipline.
Revit offers features for Architects and Engineers to upload and coordinate interdisciplinary models on Revit interface. This feature helps them project stakeholders to track and mitigate potential errors in the model.
3 – Library for BIM Objects
If you are adopting Revit modeling services then it is important to know that Revit offers predefined BIM objects or Revit Families for design elements. This include doors, windows, beams, columns, footings etc.
The library provided by Revit software is quite comprehensive for using different design elements in a project. These families or BIM objects are parametric in nature that allows user to flex them to required dimensions.
4 – Multiple export options for Revit modeling
If you are adopting Revit modeling services and if a project stakeholder requires the 3d model in different format then Revit offers multiple export options. The export options include IFC, FBX, NWC, CAD formats.
Also Read, Revit Modeling Services: Benefits for Building Design Construction
Process of Revit Modeling Services
Step-1
The first step in the Revit modeling process is to set up the project. It is critical that an experienced BIM modeling or Revit modeling specialist takes this job.
Setting up a Revit Model generally requires choosing a suitable template, defining units of measurement i.e. Imperial/Metric, and setting grids/coordinates.
Step-2
The next step is to create a basic geometrical model. This includes modeling of architectural elements such as walls, floors, and roof of the building.
The architectural elements can create using the predefined elements in Revit library. These elements or families are customizable and parametric in nature.
Step-3
Once the basic Architectural Model is in place, the next step is to develop a structural model. As per the Architectural design, the Structural engineer must provide a structural plan with columns, beams, footings etc. details.
Using the structural plan, the Revit modelers develop structural Revit model containing necessary design details.
Step-4
Building systems such as HVAC, Electrical, and Plumbing can add to the model using Revit's specialized tools. These tools allow designers to create systems that are accurate and efficient, and that meet the requirements of the project.
Step-5
Once the Architectural, Structural and MEP Model is in place you can insert detailed interior elements such as furniture. You can either use predefined elements in Revit library or can create your own parametric families for interior elements.
Step-6
As the design process move forward, the BIM models are populated with design information in each discipline.
The process of integrating design information is generally done in level of development (LOD) stages i.e., LOD 300, LOD 400, LOD 500. In which LOD 500 is the as-built information that contain lifecycle information of a built asset.
Step-7
Once you have achieved your expected level of development stage then the Revit models can use for further applications such as 4D scheduling, 5D Cost Estimation and extracting as-built drawings.
Best Practices for Revit Modeling Services
Revit modeling services have become increasingly popular in the architecture, engineering, and construction (AEC) industry.
Revit is a powerful software tool that allows users to create detailed 3D models of buildings and infrastructure. However, creating accurate and efficient Revit models requires specialized knowledge and experience.
Mentioned below are the best Practices for a BIM engineer to follow for Revit modeling:
1 – Strategizing Goals for Revit Modeling
Before starting the Revit modeling process, it is important to strategies the project. This includes understanding the scope of the project, the level of detail required, and any specific requirements or constraints. A detailed plan will ensure that the project is completed efficiently and accurately.
2 – Define Appropriate Levels of Detail
When creating Revit models, it is important to define appropriate levels of detail, developing precise families, and maintaining consistent naming conventions.
These practices will ensure that the models are accurate and easy to navigate by project stakeholders.
3 – Ease of Collaborating with other Disciplines
Revit models are often used by multiple disciplines, including Architecture, Engineering, and Construction.
To ensure that the models are accurate and meet the needs of all stakeholders, it is important to collaborate with other disciplines throughout the modeling process. This includes sharing information, coordinating schedules, and resolving conflicts.
4 – Choose Parametric Modeling
Parametric modeling is a powerful tool that allows users to create intelligent Revit models. Parametric models can update automatically when changes are made, which can save time and reduce errors.
It is important to use parametric modeling whenever possible to create efficient and accurate models.
5 – Quality Control and Review
Quality control and review are critical components of the 3D modeling process. It is important to perform regular quality checks to ensure that the models are accurate, consistent, and meet the requirements of the project.
Reviews should be conducted by both internal and external stakeholders to ensure that the models are meeting the needs of all stakeholders.
Maximizing Design Development Potential using Revit Modeling Services
Revit Modeling Services or 3D BIM Modeling Services in Architectural, Structural and MEP discipline improve the design development process in many ways.
Mentioned below are some critical points demonstrating the Advantages of using Revit Modeling in Design and Development Process:
1 – Better Engagement of Project Stakeholders
Developing conceptual and detailed design in an interactive three dimensional environment. Using these 3D Revit Models, Architects, Engineers, Project Managers and other stakeholders can review the minute design details and suggest changes when the project is in design development stage
2 – Foundation for 4D and 5D BIM
Revit Modeling is the foundation of other BIM Services. This is because the Revit Models are populated with the critical design information. These design information are further reviewed by a BIM manager before the models goes to the project manager or facilities management team.
The 4D BIM Model allow project managers to simulate the construction activities and avoid potential cost/time overruns by taking timely decisions. Whereas 5D BIM Models allow QS team to extract exact number of quantities based on which they are able to generate precise BOQs.
Overall Revit Modeling Services act as a base for further project management activities and it is critical to develop a detailed Revit model during the design stage.
3 – Optioned Material Selection using Revit Modeling
It allows users to define material properties. The architects and engineer can access the usability of a particular material in a 3D Environment by assigning different material types in Revit.
This allows even structural engineers to be creative and customize design columns and beams for maintaining the aesthetics of a building.
4 – Customize Design Elements using Revit Families Creation
BIM modeling is a detailed process. Revit offers library for predefined design elements such as doors, windows, tables, columns, beams etc.
However, if there is a unique design proposed by an architect or an engineer then using BIM Modeling Services, the design team can create unique Revit Families that not only maintain the precision of a 3d model but also extract precise quantities in the BOQs.
Looking to Outsource Revit Modeling Services?
Cresire Consultants offers Revit Modeling Services or 3D BIM Modeling Services to architectural, engineering, construction, real estate, manufacturing etc. companies around the world.
We help our customers with developing conceptual or detailed Revit models in architectural, structural and MEP disciplines in multiple sectors.
To Get A FREE Quote
Contact: (+1) 760 514 0172 | (+91) 6350202061
Email: enquiry@cresireconsulting.com
Devashish is a Co-Founder and Director at Cresire where he leads BIM services in India. He holds a bachelor's degree in Civil Engineering from the University of Sheffield and an MSc in Construction Project Management from The University of the West of England.
His vision behind CRESIRE is to provide the Best BIM Services, adhering to best practices and procedures, to global customers, helping customers to save extensive production costs and overruns.
Expertise: Architecture, Construction, Civil Engineering, 3D, 4D, 5D, 6D Modeling
Together with a Reliable Partner, Contact Us for Revit Modeling Services for your Project. Get an Instant Quote today.
Get in Touch with us for BIM Outsourcing Services
Stay up to date with the latest BIM trends, benefits of BIM, and thought leadership articles