Discover how 4D Scheduling Services can Optimize Construction Projects by Integrating Time and Cost with 3D Models. Read in detail here.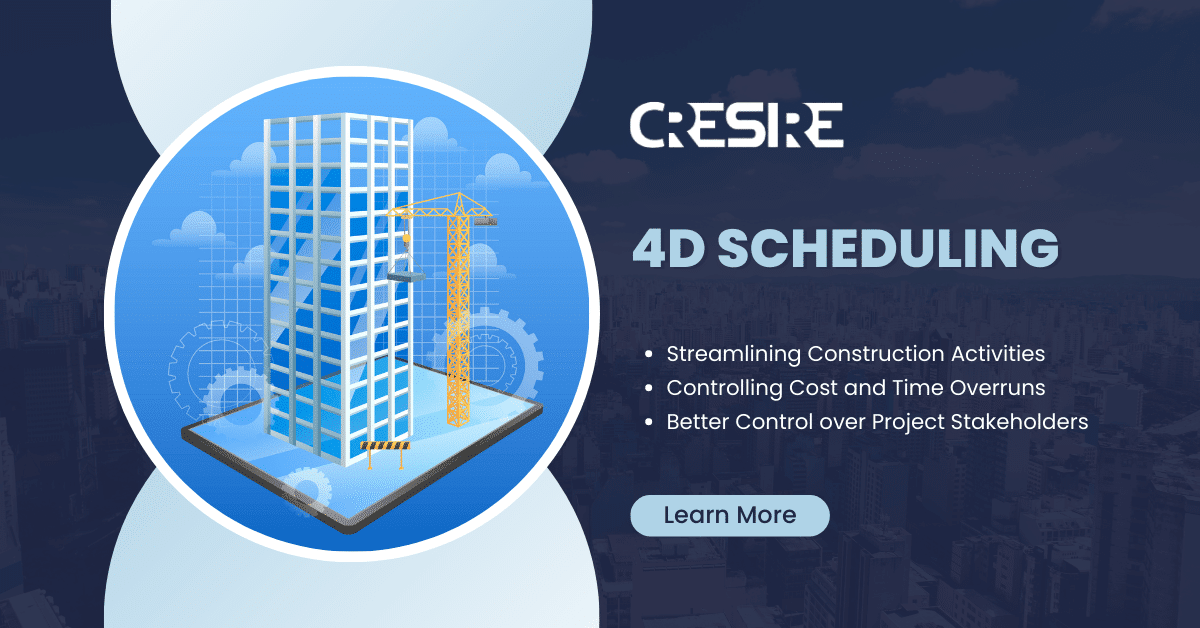 The construction industry is digitally evolving in every sector and industry. Construction professionals are investing in ways for better coordination and design development for controlling cost and time overruns. 
Amongst all the innovative methods 4D scheduling in the BIM process is a unique service that allows construction managers to streamline activities on site and manage project stakeholders.
Construction projects are inherently complex, involving numerous interdependent tasks and stakeholders. As such, efficient and accurate scheduling is essential to ensure the project is completed on time and within budget. 
4D Scheduling Services allows project managers to integrate the construction timeline into the 3D model and simulate it in software such as Navisworks.
In recent years, 4D scheduling has emerged as a powerful tool for streamlining construction processes. Navisworks allows project managers and stakeholders to systematically assign the timeline to each construction activity. 
This feature allows them to review the construction activity simulating in a 4d environment and hence providing an opportunity to eliminate potential risks associated with a particular activity on site. This feature helps construction managers to understand how a project behaves on-site and manage the site more efficiently.
In this blog, we will explore how 4D scheduling can help to optimize your construction project, and the benefits it offers over traditional scheduling methods.
What is 4D Scheduling Services?
4D BIM or 4D Scheduling Services is the process of integrating a dimension of time into a 3d building information model. The dimension of time is typically the construction schedule developed by project managers.
The resulting 4D model allows project managers to visualize the construction process dynamically and interactively, providing a clear understanding of the project timeline, resource allocation, and progress tracking.
Using software such as Navisworks, the project stakeholders can develop a simulation model demonstrating the sequences of the construction elements progressing on site. This all happens in an interactive 4D environment.

Many software-based BIM consulting companies offer services that enable construction teams to create and manage 4D schedules, providing support for various stages of the project life cycle, including planning, design, construction, and operation.
Also Read, BIM in Real Estate: 4 Benefits That Developers Can Leverage
Benefits of 4D Scheduling Services
There are Several Benefits of Using 4D BIM Scheduling in Construction Projects, including:
1 – Smooth Collaboration between Construction Project Stakeholders
One of the most significant advantages of 4D BIM Scheduling is improved collaboration and communication among project stakeholders.
The BIM 4D Modeling Services provides a visual representation of the construction process, allowing stakeholders to better understand the project timeline, sequence of work, and resource allocation.
This shared understanding fosters collaboration and enables more effective communication among the team members, leading to better decision-making and fewer errors. Also, using common data environment (CDE) platforms such as BIM 360 helps stakeholders collaborate in a digital environment following the latest BIM standards and protocols.

2 – Maintaining Control over the Construction Project
By integrating time into the 3D BIM model, 4D scheduling enables project managers to have greater control over the project timeline.
This allows them to identify potential issues and risks before they occur, adjust the schedule in real-time, and optimize resource allocation. The result is a more efficient and effective construction process, with a reduced risk of delays and cost overruns.
3 – Precise BOQs and Cost Estimation Using 4D Scheduling Services
Revit 4D Scheduling Services allows for more accurate estimations of the project timeline and resource requirements. By simulating the construction process, project managers can identify potential bottlenecks and delays, and adjust the schedule accordingly.
This leads to more accurate estimations of project timelines, enabling more effective resource planning and allocation.
4 – Enhanced Efficiency for the Design Team
By providing a clear visual representation of the construction process, 4D scheduling can help to increase efficiency and productivity.
The 4D BIM model enables project managers to optimize resource allocation, streamline workflows, and identify potential delays and issues before they occur. This leads to a more efficient construction process, with a reduced risk of rework and delays. 
Having a 4D BIM Model in place helps project managers to access the impact of the proposed design on-site and take timely critical decisions before the project goes onsite.
5 – Improved Construction Design and Safety
Maintaining a risk register is critical for project managers. 4D scheduling fosters the process of health and safety.
By simulating construction activities, project managers can identify potential safety hazards and risks before they occur. This allows them to take appropriate measures to mitigate these risks and ensure a safe working environment for all stakeholders.
How to Implement 4D Scheduling?
Implementing 4D BIM Scheduling requires a combination of software, hardware, and expertise. The following are some key steps to follow when implementing 4D scheduling in your construction project:
1 – Develop a Detailed BIM Model for 4D Scheduling
Developing detailed building information models for architectural, structural, and MEP discipline is the first and foremost step before implementing 4d scheduling.
The Task/BIM Manager should be responsible for coordinating clash-free 3D BIM Models in all the 3 disciplines. These 3d models are then populated with the construction timeline using various different software.
If you have partnered with a BIM Consulting Company then it is critical that you ask them for Clash-free BIM models in Architectural, Structural, and MEP disciplines to maximize your potential for 4D BIM or 4D Scheduling Services.
2 – Choosing the Right Software for 4D Scheduling
To implement 4D scheduling, you will need specialized software that integrates with your BIM modeling software.
There are several software options available such as Navisworks. You should select software that meets the specific needs of your project and provides the functionality you require. If you are using Autodesk products for developing 3D BIM Models then it is suggested that you choose Naivsworks for 4D BIM.
This is because if you have to go back and make changes in the BIM models then coordinating changes in all disciplines become relatively easier.
3 – Gathering Project Timeline or Gant Charts
To create a 4D BIM Model, you will need to gather data from multiple sources, including the BIM model, project schedule, and resource data.
The BIM manager should coordinate with the construction manager of the project for collecting necessary timeline information.
Depending upon the required level of detail, the project manager or the assigned project should collect the timeline data from other stakeholders, such as subcontractors, suppliers, and vendors.
4 – Developing a 4D BIM Model for Simulation
Once you have gathered all the necessary data, you can create and integrate the construction timeline data.
This involves linking the BIM model to the project schedule and resource data in Naviworks to create a visual representation of the construction process. The final model provides you with a good insight into the step-by-step progression of the construction activities on site.
5 – Test and Refine the Model
After creating the 4D model, it is important to test and refine it to ensure it accurately reflects the project timeline and resource allocation. 
You may need to make adjustments to the model based on feedback from stakeholders, or if changes occur in the project schedule or resource requirements.
4D scheduling is a powerful tool that can help to streamline the construction process and improve project outcomes.
By integrating construction schedules into the BIM model, 4D scheduling enables project managers to better understand the project timeline, resource allocation, and progress tracking. The result is a more efficient and effective construction process, with a reduced risk of delays and cost overruns.
To successfully implement 4D scheduling, construction teams should select the right software, gather the necessary data, create the 4D model, test and refine it, and train their team.
With the right approach, 4D Scheduling Services can help construction teams to achieve greater collaboration, productivity, accuracy, and safety.
Looking for 4D BIM Scheduling Services for Your Project?
Devashish is a Co-Founder and Director at Cresire where he leads BIM services in India. He holds a bachelor's degree in Civil Engineering from the University of Sheffield and an MSc in Construction Project Management from The University of the West of England.
His vision behind CRESIRE is to provide the Best BIM Services, adhering to best practices and procedures, to global customers, helping customers to save extensive production costs and overruns.
Expertise: Architecture, Construction, Civil Engineering, 3D, 4D, 5D, 6D Modeling
Together with a Reliable Partner, Contact Us for 4D Scheduling Services for your Project. Get an Instant Quote today.
Get in Touch with us for BIM Outsourcing Services
Stay up to date with the latest BIM trends, benefits of BIM, and thought leadership articles