Read investing in Clash Detection Services for Controlling cost and Time overruns. Also know the Navisworks role and implementing a process.
Control Construction Cost and Time Overruns
Construction costs & time overruns are one of the biggest challenges in the construction industry.
It is critical for a project manager that a construction project is delivered within the agreed time and budget.
Nowadays, construction managers extensively use clash detection and BIM services for better project performance.
Setting expectations from BIM clash detection services during the design process is also critical for better design forecasts.
Investing in innovative construction tools for controlling cost and time overrun can get overwhelming. Many construction companies are adopting BIM Services and hiring professionals skilled with Revit clash detection software for achieving project goals. This is because of the fact that clash detection services provide an overview of the design in a 3d environment.
Revit Clash Detection is a highly collaborative process enabling project stakeholders to analyze design errors in architectural, structural, and MEP disciplines.
Architects, civil and MEP engineers are able to superimpose 3d models and analyze the errors and problems within the design. For instance, using a clash detection report, project stakeholders can track the clash between architectural and MEP components or structural and MEP components.
What is Clash Detection?
Clash detection is the process of identifying collisions between architectural, structural, and MEP components. These components typically include walls, windows, doors, RCC beams, columns, HVAC, pipes, wires, etc.
BIM Clash Detection uses two software; Revit and Navisworks for generating comprehensive clash reports.
Also Read, What is BIM Clash Detection and How Does It Work
Collision in clash detection services simply means the presence of multiple design elements in a particular location. For example, if there is a design error in the structural plan and a beam is occupying the same position as the door in architectural design.
The clash reports systematically demonstrate the floor wise collisions between the design element. For instance, if there is a clash between a door and a structural beam, then the clash report will show the floor number, ID, element names, and clash type (soft/hard).
This helps the BIM team to identify the owner of the risk and allocate the clashes to respective teams to make the revisions.
Role of Revit in Clash Detection Services
Revit is a 3d modeling software that allows architectural, structural, and MEP teams to develop three-dimensional models. Revit offers a great interface that provides predefined architectural, structural, and MEP elements.
Using Revit, architectural, structural, and MEP teams develop 3d models in their respective disciplines.
Once the design reaches the finishing stage, all of these 3 models in different disciplines are gathered together to create a central model.
The 3d models developed in Revit are quite detailed and contain minute information such as reinforcement, concrete grade, section dimensions, etc. The Revit models are exported in NWC format for conducting BIM clash detection.
Also Read, How to Resolve Clashes Using Revit Clash Detection Tool
Role of Revit in Clash Detection Services
Carefully crafted timetables and budgets can be swiftly abandoned when unanticipated conflicts arise.
With Navisworks' Clashes Detective tool, you can quickly find, check out, and report interferences (clashes) in a 3D project model to prevent unpleasant surprises onsite and ensure smooth project delivery.
By including a simple structure to go through clashes from identification to resolution, Clash Detective also helps to lower the possibility of human error during model inspections.
Clash Detective can also be utilized as a one-time "final check" or even an ongoing project audit review once your design work is finished and proceeds to BIM clash detection.
Process for implementing the Clash Detection in Navisworks
From Revit, export the models to Navisworks. Turn off the "divide file into levels" option and set the coordinates to project internal
Set up the clash test, including the definitions of the rules. Turn on the "Items with coincident snap points" option before Conflicts detection
Select the necessary components, then specify the tolerance and collision type. Take note that we conducted a separate test for clash reporting for insulation.
Conflicts can be manually sorted and grouped by service type and room/area. You'll notice that the pertinent elements are used to categorize all collisions. For instance, conflicts with ducts, air terminals, and pipelines can occur with internal VRF units.
Prepare for conflicting viewpoints for BIM Conflicts detection
Reports on conflicts can be exported in HTML (Tabular) format.
After that, you can share or export a collection of conflict tests as a template. Clash reports may be imported and exported as necessary (XML format).
Types of Different Clashes
1 – Hard Clash Detection
Two components or items crossing one other or being in the same location on the model are referred to as a hard clash. For instance, plumbing next to air ducts and pipes that passes through a steel pillar.
2 – Soft Clash Detection
Instead of two components directly colliding, indirect interference causes a gentle collision. This occurs when an element is not provided the necessary geometric or spatial tolerance.
3 – Workflow Clash Detection
Errors in scheduling, such as delays in equipment supply and timetable conflicts, are the key components of a workflow dispute, often known as a 4D clash. Conflicts in the flow of work reduce productivity and lead to process halts.
Best Practices of Conducting Clash Detection in Navisworks
1 – Assess all the project Files
With the aid of Conflicts Detective, you can compare your plans with on-site reality capture and make any necessary adjustments by running clash tests between standard 3D geometry (triangles) and laser-scanned point clouds.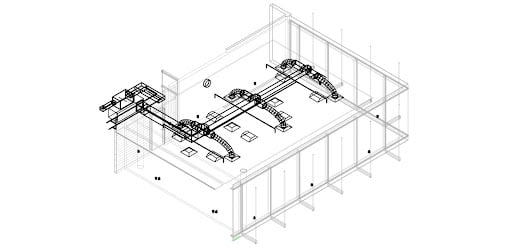 2 – View clashes across the dimension of time
Do time-based clash checks on the project by integrating Clash Detective and Time Liner. You may schedule objects to appear or vanish as needed, making it easier to pinpoint exactly when and where collisions might happen.
3 – Generating a federated model for all project stakeholders
The data for the complete construction project are combined by Navisworks. You can examine and evaluate complicated models in real-time by combining the geometry and data from multidisciplinary teams in the files.
Also Read, 4 Benefits of BIM Clash Detection Services in Design Development
Getting a clear overview can be particularly difficult when there are so many teams working on a project, each with their own models.
In order to create a single 3D model that can be used for basic visualization, clash detection, or virtual inspection, you can merge several models from different trades using Navisworks, including architectural and civil, MEP, detailers, fabrication, structural engineering, etc.
By combining many views of the models, you can visualize the finished structure more precisely and anticipate model conflicts before they affect the schedule and budget. This saves time.
4 – Set Clash Guidelines and Models
Setting up clash rules and templates is crucial since it will help the clash review process run more smoothly. One guideline or model may only work for some. As a result, it is crucial to thoroughly examine the outcomes once rules and templates combines.
5 – Clash Test Import & Export as XML
With the help of Navisworks' XML export and import functionality, we can develop a consistent collision review test for the entire project or business. Subject to the choice of the test, we can apply the same clash test technique to the upcoming work or project.
6 – Putting the Clash Results in Sections
Since several clashes are likely to occur, grouping them will make them appear more orderly. The group should dictate the naming scheme to be used. Then, by selecting "group" in Navisworks, we can examine the total clash report view. Everyone should adhere to the group's name, which should be brief but descriptive.
Advantages of Using Clash Detection Services for design development
1 – Cost and Time Certainty
Cost and time overruns are common in construction projects. Research suggests that construction projects exceed their budget by 16% at minimum in the USA. The common reasons for cost time overrun are design change and lack of coordination between project stakeholders.
Clash detection provides a deep insight into the design errors and help project stakeholders to identify and eliminate design errors that incur huge cost & time overruns when the project goes on site.
2 – Coordination between Project Stakeholders for design development
Communication and collaboration between architects, engineers, project managers, and clients are critical in construction projects to ensure timely completion within the agreed budget.
However, the collaboration between project stakeholders sometimes gets really hard because of time issues, less familiarity with the latest collaborative tools, and a lack of software skills.
The clash detection services bring the design development process into a three-dimensional environment and project participants are able to pinpoint floorwise errors in the design.
It is the duty of the project manager to implement clash detection services in the design process and ensure all the design stakeholders are able to view and mitigate the risks using the clash reports.
3 –  Precise Cost Estimation using Clash Detection Services
Cost estimation is the 5D stage in the BIM process. Precise cost estimates are essential before the project goes on-site.
Eliminating potential design errors using Conflicts detection services allows project stakeholders to develop error-free cost estimates. These cost estimates that are developed using the quantity takeoff feature in Revit must be done after eliminating potential clashes from the design.
Conclusion
Clash detection is the best tool for identifying and eliminating potential design errors before the project goes to the site.
BIM clash detection uses multiple software such as Revit and Navisworks for successful implementation. While Revit allows construction professionals to develop 3d models, Navisworks allows simulation of the model. The simulation includes inputting the tolerance level, construction schedule, and discipline for BIM clash detection.
The process of implementing clash detection in Navisworks is a little complex and requires software expertise. BIM Clash Detection is most effective if all the 3 disciplines; architectural, structural, and MEP work collaboratively from the conceptual to the detailed design stage.
The advantages of using clash detection services typically include; developing precise cost estimates, promoting better coordination between project stakeholders, and controlling cost and time overruns of construction projects.
Outsourcing Clash Detection Services
BIM clash detection requires advanced software and technical skills. It is advisable to outsource clash detection services if you do not have in-house capabilities or skills. Many construction professionals often seek for BIM Services providers in USA, Australia, UK, and other European countries.
CRESIRE is a BIM consulting company offering Clash Detection Services to AEC countries across the world. Some of our services include; Navisworks clash detection, Revit modeling, 5d cost estimation, and 6d facilities management.
Together with a reliable partner, create a low-cost HVAC Drawing project.
Our Trending Blogs
enquiry@cresireconsulting.com
USA (+1) 760 514 0172
IN (+91) 63502 02061
Tags :
Share Via :
Facebook
Twitter
LinkedIn
Pinterest
Reddit
WhatsApp
Tumblr
Email
Get in Touch with us for BIM Outsourcing Services
Stay up to date with latest BIM trends, benefits of BIM and thought leadership articles