Learn the art of Maximizing ROI with Point Cloud to BIM integration. Unlock efficiency and precision for your projects.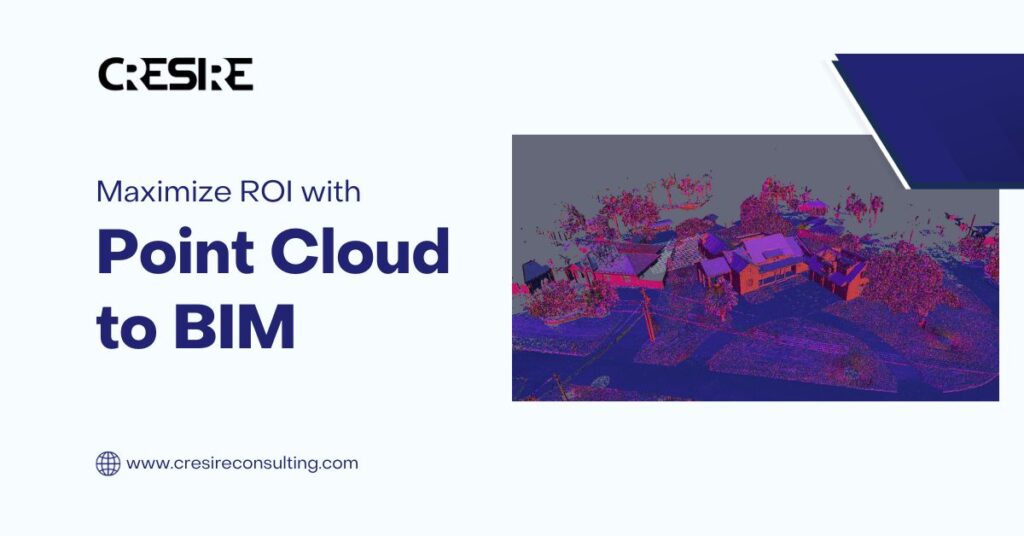 Welcome to a comprehensive post on how to maximize ROI with Point Cloud to BIM. In this blog, we will explore the world of Building Information Modeling (BIM) and how integrating Point Cloud data can significantly boost your returns on investment.
Scan to BIM or Point Cloud to BIM Modeling technique is widely adopted on renovation and site surveying project. Point cloud modeling offers great cost and design benefits that contribute to maximizing return on investment (ROI).
Construction professionals in many countries such as USA, UK, Europe, Australia and UAE are widely adopting point cloud to 3d modeling technique for developing precise design and extract exact quantities for cost estimation. 
Whether you're in the construction industry or interested in leveraging technology for efficiency and profitability, this blog helps you understand to maximize ROI with Point Cloud to BIM Modeling process as well the benefits of investing in the technology.
Understanding ROI with Point Cloud to BIM
What is Point Cloud Data?
Point Cloud data is a collection of 3D coordinates obtained through laser scanning or photogrammetry. These points create a detailed representation of physical objects, such as buildings or landscapes.
What is BIM in Point cloud to BIM?
Building Information Modeling (BIM) is a construction management tools that help construction managers to save cost and time overruns of a construction project. BIM uses advanced design and cloud software for superior design development, coordination, cost estimation, clash detection and facilities management.
BIM provides a digital representation of a building's physical and functional characteristics. Using Point cloud to BIM models architects, engineers, contractors and other project stakeholders can collaborate on a single platform making critical decisions. Software such as Revit and BIM 360 help AEC professionals to not only model precisely but also collaborate, visualize, walkthrough and chat on a digital platform. 
BIM typically has 4 dimensions: 3rd dimension of height (3D BIM), 4th dimension of time (4D Sequencing), 5th dimension of cost (5D Cost Estimation), and 6th dimension of as-built data (6D Facilities Management). All of these dimensions help project stakeholders to develop precise design, accurate cost estimates, superior site operations and facilities management strategy.
The Power of ROI with Point Cloud to BIM Integration
Now, let's delve into the ways you can maximize your ROI by integrating Point Cloud data into BIM. 
In this section, we'll explore various strategies to make the most of Point Cloud data within your BIM projects.
1. Accurate As-Built Models
One of the key advantages of Point Cloud to BIM is its accuracy. Using software such as Recap Pro and Revit, you can create highly precise as-built models of existing structures. 
The quality of point cloud data allows BIM professionals to accurately develop point cloud to 3d models. These Point Cloud to 3D Models are used as the source for extracting 2D CAD Drawings for site, Building Plans, Elevations etc. 
The 3D Model and Design Data developed using a good quality point cloud data is highly accurate as compared with the traditional ways. This ensures that your new construction or renovation projects are based on solid foundations.
Gone are the days of labor-intensive site surveys. With Point Cloud technology, you can quickly and efficiently capture detailed information, saving time and reducing costs. 
You just have to make an initial investment of purchasing a laser scanner and getting trained. While these is a great demand of laser point cloud to BIM technology in developed countries such as USA, UK, Europe and UAE, the applications of Scan to BIM Technology is diverse. 
Using laser point cloud scans allow you to enter BIM Market which is gaining is great interest of AEC professionals around the world.
Point Cloud to BIM integration allows for comprehensive clash detection. Once the accurate laser scan is captured of a building in architectural, structural and MEP discipline then the next step is to develop 3d models. This process is commonly known as point cloud modeling. 
Using point cloud modeling technique you can develop BIM Models in Architectural, Structural and MEP discipline. The Point cloud to BIM Models are further imported in Navisworks software for clash detection between all 3 discipline. 
The software provides you a Clash Report with element ID, Grid and Floor location for easy location of the clashes. By identifying and eliminating clashes in the design phase itself, you can avoid costly rework during construction.
Enhance project understanding by creating 3D visualizations using Point Cloud to BIM technique that allow stakeholders to "walk through" the building virtually. 
Revit software allows you to export 3d models in multiple formats including; IFC, FBX, 3Ds etc. You can further import these models in software such as 3dsMax for realistic rendering and walkthroughs. This improves decision making during design phase and eliminate the chances of design changes during construction. Hence, saving a lot of time and costs.
5. Maintenance and Facility Management
After construction, Point Cloud data remains valuable for facility management. Point cloud to BIM allows you to integrate as-built information such as manufacturer details, warranty date, efficiency, date of instalment of design and MEP elements.
This information becomes powerful for facilities managers to effectively track and manage design elements and MEP equipment during the time of service/repair. It simplifies maintenance tasks, as all information about the building is readily available in the BIM model.
Integrating Point Cloud data into your BIM projects is a surefire way to maximize your ROI. From accurate as-built models to streamlined surveys, project visualization and improved facility management, the benefits are numerous. 
It is necessary to make an initial investment of purchasing a laser scanner and getting the right training.  Remember, the initial investment is well worth the long-term gains.
AEC professionals in the developed countries are widely using Point Cloud to BIM Technology for renovation and site surveying projects. This helps them to develop precise designs for existing structures, calculate accurate bill of quantities (BOQ), superior site & facilities management. Embrace the future of construction and design with Point Cloud to BIM integration.
Contact Us to Get a FREE Quote Today!
Frequently Asked Questions By Our Clients​
Absolutely! Point Cloud data has applications in various industries, including architecture, engineering, construction, and even heritage preservation
Initially, there is an investment in scanning equipment and software. However, the long-term savings in time and error reduction more than justify the cost.
The frequency of updates depends on the project. Major construction projects may require more frequent updates, while smaller projects can be updated less frequently.
Yes, Point Cloud data can be easily shared in BIM models, allowing all stakeholders access to vital information.
There are several software options available, including Autodesk Revit, Bentley MicroStation, and Trimble RealWorks. The choice depends on your specific project needs.
It's essential to consider privacy when scanning areas with sensitive information. Proper data management and security measures should be in place.
Together with a Reliable Partner.
Contact for Revit Modeling or 3D BIM Modeling Services for your Project.